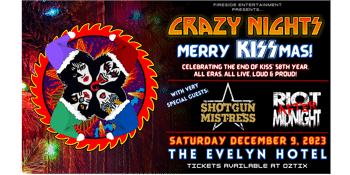 Fireside Entertainment & Evelyn Hotel presents
Merry Kissmas
Crazy Nights // Riot After Midnight // Shotgun Misstress
The Evelyn Hotel (Fitzroy, VIC)
Saturday, 9 December 2023 8:00 pm
Merry Kissmas Melbourne!

To celebrate the end of 2023 – KISS' FINAL year, we thought the best way to wrap things up was with a special show from CRAZY NIGHTS!

After their explosive debut in 2023, Crazy Nights have decided to change things up - playing you a "greatest hits" set, done with their iconic look & sound! With all the passion, volume, leather & smoke that you'd expect from Crazy Nights, this is a night of hard & heavy rock'n'roll for the KISS Army to celebrate the end of the hottest band in the world!

Joining the chaos is two of Melbourne's best rock acts – SHOTGUN MISSTRESS and RIOT AFTER MIDNIGHT.