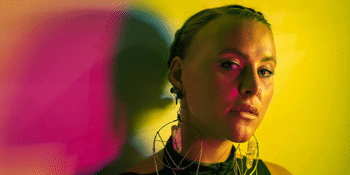 The Evelyn Hotel presents
Allysha Joy
Special Guests
The Evelyn Hotel (Fitzroy, VIC)
Thursday, 29 November 2018 8:30 pm
Allysha Joy brings exactly what her name suggests, through her gift of song and looseness of play, in an exploration of jazz, hip hop and soul.
She is well-known for performing in Melbourne Hip Hop collective 30/70, and their success over the past two years has lead her to further challenge her expression in a project of her own. Allysha is pushing boundaries as a female keys player, poet, singer and producer, releasing her first solo record with Northside Records this April 22nd.
The 7" includes two tracks expressing her heartfelt desire for change. The single, FNFL is dedicated to the traditional and rightful owners of Australia, reflecting upon their ongoing battle for custody of land, custody of their children and open expression of their culture.'
Whether performing solo on Fender Rhodes or accompanied by her band, featuring members of 30/70, Allysha's steady groove, husky vocal tone and unique style of writing emanates truth and talent.
Allysha Joy has performed alongside acts such as Sampa the Great, Man Made Mountain, MKO and Simon Mavin, of Hiatus Kaiyote. She also performed as a feature artist at the 20th anniversary of Stones Throw Records and at both the Stonnington Jazz Festival and the Melbourne International Jazz Festival.