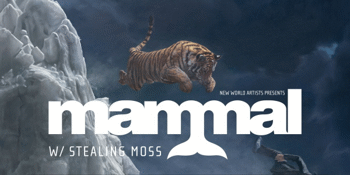 The Evelyn Hotel & New World Artists
MAMMAL
with SteAling Moss
The Evelyn Hotel (Fitzroy, VIC)
Saturday, 9 April 2022 6:30 pm
MAMMAL – ANNOUNCE FIRST AUSTRALIAN SHOWS SINCE LOCKDOWN #1

Touring with Special Guest - STEALING MOSS (featuring members of Bushido)

Hell yeah, we know what you're thinking …. this caged tiger of a band MML is finally loose after this past crazy 12 months & coming for you, Fitzroy !
Face the 'glare of the future' together with your Mammal Melbourne community on the band's most anticipated return to East Coast Australia stages yet,
with new Bass player Kade Turner.

This revitalised beast of a band plays the newly refurbished Evelyn Hotel Sat 12 June with mates Sterling Moss.
Sterling Moss (Melb) is a brand new heavy alt-rock outfit with members from Bushido/The Khyber Belt absolutely itching to play their first shows ever.
Debut single 'Lines On A Leaf ' plus 'Blink of an Eye' are released to coincide with this tour announcement.
Video here:
www.facebook.com/sterlingmossband
An exclusive MAMMAL newsletter presale starts this Thursday 22 April 9am with a code word and exclusive sales link provided by email for MML list members the day prior. Capacities are all GA Standing and limited, so the heads up is - book early to avoid disappointment.

Kerrang magazine wrote: "Mammal's show is perfect…If you weren't there you missed out, big time." and gave Mammal a perfect score of "KKKKK".

"Just saw Ezekiel and the Mammal boys at The Underground in Camden, London. Hands down one of the best gigs I've ever been to.." Mammal Facebook fan review

"Opening with Virtue Signalling and Nagasaki in Flames, Mammal already had the entire room full of 900 patrons swaying and singing to some of the most infectious dance tunes composed in rock music. All four members brought more than just energy and a fantastic performance. To this day, Ezekiel Ox remains a true aficionado of the stage as the alternative Metal equivalent to Jamiroquai both musically, and physically with his disco ball helmet and fluffy rainbow tie dye hoodie. He would occasionally crowd surf, jump into the pit and get everyone around him to dance, and even get up on a bar stool and sing to the likes of Hollywood Shrine, Community, Clear Enough? , Smash the Piñata and New Breed Judas.
I'm pretty damn sure that Mammal provided what was most definitely one of the best live shows of the decade in Aussie rock history!"
Overdrive Magazine -MML @ Croxton /Aug 2018

For more excitement go to https://www.mammalband.com/ or listen to the live album on Spotify. Hell yeah