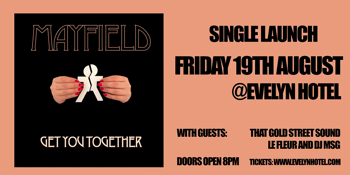 Evelyn Hotel presents
Mayfield "Get You Together" Single Launch
Le Fleur // That Gold Street Sound // DJ MSG
The Evelyn Hotel (Fitzroy, VIC)
Friday, 19 August 2022 8:00 PM
"I've been fortunate to see this band live and I gotta tell you, they are explosive. Mayfield just slay the stage, further establishing themselves as musicians who stay true to their craft"
Kara Bertoncini - The AU Review
Melbourne Soul Funk outfit release their long awaited follow up single "Get you Together" after releasing their debut album "Victim of Circumstance" in 2017 Produced by Choi Productions. Mayfield's own drummer Ivan 'Choi' Khatchoyan (Cooking on 3 Burners & The Traffic)
"Victim of Circumstance" received rave reviews. It was awarded PBS FM 106.7 feature album of the week and international airplay and praise from Craig Charles on BB6 FM in the UK.
"Get you together "marks a new era of Mayfield embracing a more R&B with hints of their classic sound of soulful beats, smooth melodies, powerhouse vocals and a heartfelt story.
Mayfield have been on the Melbourne music scene for almost a decade and continue to make waves in the Melbourne soul scene and have sold out several venues and festivals including "Chapel Summer Sessions" at Chapel off chapel, The Night Cat, The Paris Cat, The Gasometer, Melbourne Music week and a featured finalist on the St Kilda festival- New music stage, after being hand chosen out of 400 applicants nationwide, Funk N Fest, Stonnington Jazz festival and they have recently supported Grammy award nominee, writer and producer Eric Roberson (Jill Scott, Dwele, Musiq Soul Child, Robert Glasper).
The band has a strong live reputation as being a staple in the thriving Melbourne soul scene from their high level of musicianship and their ability to get people on the dance floor. The band is fronted by vocal powerhouse, Carla Troiano, is also a featured vocalist on Melbourne's 'Women Of Sou Collectivel' a collaboration with other female artists such as Kylie Auldist and Chelsea Wilson and Stella Angelico.
After the delays of the Pandemic, Mayfield are looking forward to launching their new Single Get you together at the Evelyn Hotel on Friday 19th August with support from That Gold Street Sound, Le Fleur and DJ MSG. They are looking forward to a long awaited Funky party to celebrate the triumphant return of live music to Melbourne.
"Victim Of Circumstance is that record you put on when you're getting ready; ready for that meeting, that date,
that night out - it's groovy and empowering. Their strong leader Carla is brave and honest,
with that glam star quality"
Cassie Walker - Southern Star Austereo
"...Mayfield will soothe your soul and
wrench your heart out at the same time"
Kat Tame - 27 Magazine