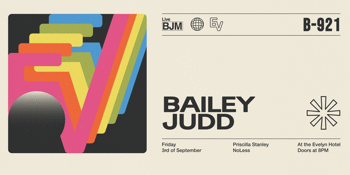 Evelyn Hotel presents
Bailey Judd 'Come Running To Me' Single Launch
NoLess // Priscilla Stanley
The Evelyn Hotel (Fitzroy, VIC)
Friday, 8 October 2021 8:00 pm
"...pop sensibility combined with some daring, informed harmonic moves. I see an expansive future for Bailey Judd." - John McAll, Producer, Keyboardist for The Black Sorrows, Musical Director for At Last with Vika Bull

Emerging once again from a dark sharehouse in sunny Coburg, Bailey Judd presents his melancholic and eclectic brand of indie rock alongside the incredible NoLess and Priscilla Stanley. Join the party to celebrate Bailey's latest synth-heavy single "Come Running To Me"

Over 2021, Bailey and along with friends Ella Clair and Jake Amy held "Broke and Enter '' Mini Festival, MC'd by Indigious comedian Shiralee Hood at Max Watts to raise funds for their stolen music gear in early 2021 proceeding Judd's sold out "Can't Quite" single launch at Colour Club.

NoLess

NoLess is the creative love child of Melbourne born and raised singer-songwriter Aidan Ryan . teaming up with his close friends and talented musicians to perform and record these original pieces of music. Heavily influenced by the sounds of genres such as RnB, Soul, Jazz and Hip Hop to name a few, they're beginning to mould their very own style and sound.

Priscilla Stanley

Originally from Malaysia, Priscilla Stanley now calls Melbourne her home as she pursues music as her life's destiny. Priscilla is like a breath of fresh air as she moves onto realising her passion and dream to becoming an International Artiste a reality.
To that end and to complement her continuously expanding musical landscape she has added into her repertoire more elements with ethereal vibes. This includes Carnatic singing and ragas in the mix together with Malay songs among elements of Jazz, soul and R&B.

We acknowledge the Wurundjeri people of the Kulin nations on whose stolen lands this event is held and recognise their continuing connection to our community. We pay our respects to elders past, present and emerging, and extend that respect to any First Nations people who are present at the event.