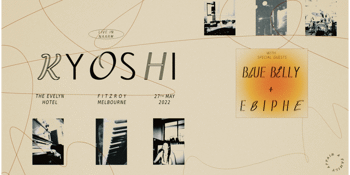 Evelyn Hotel presents
Kyoshi
Blue Belly // Ebiphe
The Evelyn Hotel (Fitzroy, VIC)
Friday, 27 May 2022 8:30 pm
KYOSHI (Gadigal/Sydney) have transcended standard genre labels, to create thought-provoking music with a commitment to unapologetic individuality.
Lead singer Leah Wilkies' lyrics are an insight to her own spiritual realisations, explaining, "Shadow Archetype" highlights the acceptance of our inner darkness. Establishing a strong connection to the shadows of our souls, and embracing those parts of us that we often hide from the world."

The four prolific instrumentalists are proud to reveal their latest musical statement - A profound combination of rich vocal harmonies, eclectic ideas and disguised odd time-signatures, that is completely indicative of Kyoshi's soulful and experimental sound.
KYOSHI's artistic integrity has caught the attention of Happy Mag, performing 'Will it Lie' at Enmore Studios, FBI Radio as an "Independent Artist of the Week", and from radio play taste-maker station 'WorldwideFM'. Their debut self-titled album charted #6 on the 'AIR' charts.
The next year for KYOSHI includes touring, collaborations and multiple releases.
LISTEN HERE - WILL IT LIE