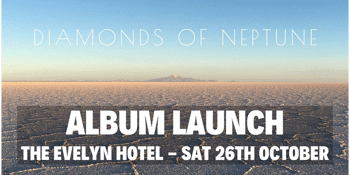 The Evelyn Hotel
Diamonds Of Neptune - Album Launch
Bloody Ripper, Special Guests
The Evelyn Hotel (Fitzroy, VIC)
Saturday, 26 October 2019 8:30 PM
The day has arrived! After over two long years in the making Diamonds of Neptune are set to release their debut album! No longer will the question 'When will the album be released?" be met with "ahhh yeah you know soon..." but instead it will be "October 26th!"

Joining them on the night will be our old dear friends Bloody Ripper with their one-two ka-boom punchy funk punk rock and the new kids on the block Olympic White bring their indie-rock vibes.

This has been a long time come so we would love to see all your faces there!