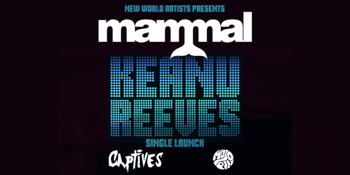 New World Artists and Evelyn Hotel presents
Mammal
with Captives and Mojo Pin
The Evelyn Hotel (Fitzroy, VIC)
Friday, 22 December 2023 7:30 pm
'Keanu Reeves' single launch, Dec 22nd 2023 at The Evelyn with Captives and Mojo Pin.

Mammal is excited to announce a single launch show for 'Keanu Reeves', the first single from their second album 'The Penny Drop' (coming early 2024). 'Keanu Reeves' will have the Mammal brethren reminiscing, laughing and, most importantly, as frontman Ezekiel Ox croons on the track: "on the dance floor to prove how much you love your nation."

'Keanu Reeves' will be released on November 15th with a 'Point Break' inspired video clip.

'The Penny Drop' album is produced by Jimi Maroudas and mixed by Forrester Savell, the band has stepped it up a notch post lockdown, bringing a new level of tightness to their internationally renowned groove. Anticipation around the new album is huge!

To celebrate the release of 'Keanu Reeves' Mammal are very excited to play an exclusive Melbourne show at their "home ground", The Evelyn Hotel on Friday the 22nd of December with special guests Captives and Mojo Pin. Not only will this be a celebration for the new single but a return to the tradition of the Mammal Christmas party (can we get a 'ho, ho, ho!'), Mammal is a band that views its legions of fans as family.