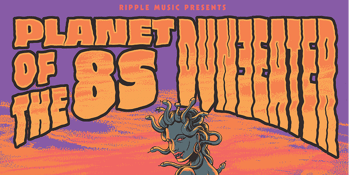 Evelyn Hotel and Ripple Music presents
Planet Of The 8s / Duneeater 'Turned to Stone' Tour
Special Guests
The Evelyn Hotel (Fitzroy, VIC)
Friday, 21 October 2022 8:00 pm
Planet of the 8s and Duneeater are combining forces and hitting the road promoting their latest release, Turned To Stone Chapter 5, a split 12" LP released on Ripple Music.
Notorious for heavy desert rock grooves, Planet of the 8s delivers a wall-of-sound so thick it's visible from space. Their visceral live performance swings and swaggers from flat-out riffage to atmospheric psych and doom, laying out epic journey arrangements that are punctuated by big vocal harmonies, and blistering lead guitar passages.
The music lives in the heavy psychedelic branch of The Riff Tree, taking bedrock influences like Kyuss, Tool and early-QOTSA, and exploring fresher offshoots cultivated by acts like Lowrider, Elephant Tree and All Them Witches.
Duneeater are a five piece band fuelled by heavy desert vibes built from genuine Aussie parts. Their love for V8s, driving riffs and groove is written all over their music, and while some might be tempted to roll Duneeater up in the stoner genre, it doesn't take long before you realise their riffs weren't just made for spliffs... it's an add fuel, turn key and burn rubber road trip to your nearest outback pub.
Duneeater's music was once described as if Kyuss and Fu Manchu jammed out a child. That being said, these blokes have managed to find their own sonic space on the desert highway by adding the flare of the Aussie hoon. "I think subconsciously when we're writing, we work off a template where we hope the listener will wanna crack a few beers n do a burnout."