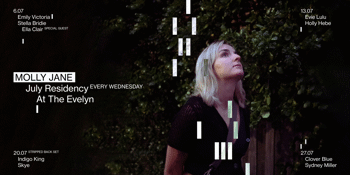 Evelyn Hotel presents
Molly Jane - July Residency
Clover Blue // Sydney Miller
The Evelyn Hotel (Fitzroy, VIC)
Wednesday, 27 July 2022 8:00 pm
Molly Jane, an up and coming singer-songwriter in Naarm (Melbourne), brings you a month long musical extravaganza at the Evelyn Hotel.
Molly and her backing band play at the Evelyn hotel every Wednesday night of July, alongside different local artists every week.

Playing to a full crowd at her previous headliners, Molly has a history of charming her audiences.
With a voice sweet like honey and lyrics honest and unfeigned, her songwriting is bound to make you dance, cry, laugh, contemplate, call your ex or tell a stranger you love them.
Draws from styles: Alt-pop, indie, neo-soul, singer-songwriter