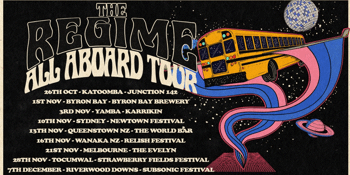 The Evelyn Hotel & Poster Child
The Regime 'All Aboard' Tour
Special Guests
The Evelyn Hotel (Fitzroy, VIC)
Thursday, 21 November 2019 8:00 pm
Climb aboard our ship!
Let's take a trip outside our minds!
Where we all get together..and groove from time to time.
Watching the stars fly by! When I close my eyes, the Big Bang starts happening and through the fire works I'll fly!!!
So all aboard the Deuzy Vibe Empire🙌🙌🏽🙌🏿

Let us prayziez

Hail Mary who is space blushed with stars upon her face,
from deep horizons dawns an age where races meld before our stage.
Decide to be or not to be..we quest towards a change,
we were born to be immortals let us walk beyond the gates.