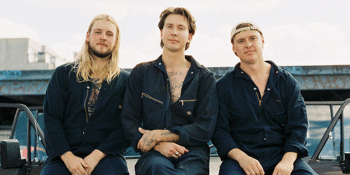 Evelyn Hotel presents
Kitschen Boy 'Excessive Garishness & Sentimentality' Tour
Special Guests
The Evelyn Hotel (Fitzroy, VIC)
Saturday, 15 October 2022 7:30 PM
Kitschen Boy are a Melbourne 4-piece making jangly, springtime indie rock tunes with introspective and self-deprecating lyrics that fill you with warmth and nostalgia.
Born of lifelong friendships and a former career stacking shelves at Bunnings, the group have developed a global following, amassing over 1.5 million streams on Spotify, featuring on influential editorial playlists, and garnering praise from the likes of Triple J, Double J, and PBS.
Having toured nationwide in support of Teen Jesus and The Jean Teasers, Dear Seattle, and Stumps, the band are finally ready to share their debut EP and take the show on the road for their first ever national headline tour. The forthcoming 5-track release sees the band combining their signature brand of 'Paddle-Pop' with more thought provoking subject matter than seen on previous releases, drawing comparisons to Gang Of Youths and Rolling Blackouts Coastal Fever.
With plenty more jangly goodness where that came from, sit back, roll the windows down, and bliss out to the shimmering sounds of Kitschen Boy.