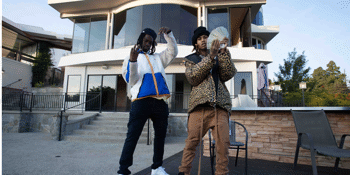 The Evelyn Hotel & WavyLand presents
CANCELLED - Lil Gnar & Germ 'The Big Bad Gnar Shit' Australian Tour
Special Guests
The Evelyn Hotel (Fitzroy, VIC)
Friday, 15 May 2020 8:00 PM
Touring Australia for the first time Lil Gnar & Germ present "The Big Bad Gnar Shit Australia Tour". Playing intimate venues across the country, Lil Gnar & Germ bring underground to Australia. Both acts are heavily involved in skating & fashion & are known for their viral images and videos.

Lil Gnar is a recording artist, clothing designer, and skateboarder. He's know for hits "Drop Top Benz" & "Death Note" with Lil Skies and "Ride Wit Da Fye" accompanied by Germ. Lil Gnar's Fire Hazard mixtape dropped in 2019 through 10K Projects and features the likes of Lil Yachty, YBN Nahmir, Lil Skies, Lil Tracy and more. Prior to his recent music career glow up, the Atlanta Rapper got his start in fashion and skateboarding with his own brand GNARCOTIC.

"Who dat there/With all that flair?" In the two years since "Who Dat There " ripped a hole in Soundcloud, Germ's BADSHIT (Bootleg) debut solo mixtape, the mysterious L.A.-via-Atlanta MC who has mostly let his freakily lit flow do the talking via a series of hype-elevating tracks and covert guest verses popping up on Soundcloud, Spotify, and YouTube. Germ's epic "Awkward Car Drive", single featuring $uicideBoy$, from 2019 extended the viral buzz even further.

All that's about to elevate even further with the release of Germ's official solo full-length album set for a 2020 release through tastemaker label G59. Dropping in from out of nowhere, Germ has ramped up expectations gradually – from spitting viral freestyles to his distinctive raw standout verses on Buffet Boys crew tracks with homies Pouya and Fat Nick, to his wild presence on his DirtierNastier$uicide collabo with $uicideboy$ and split EP Big Bad Gnar Shit with fellow ATLien.