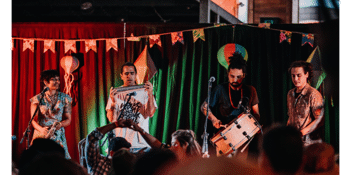 Evelyn Hotel presents
FORRO // Afro Brazilian Party
2 SETS
The Evelyn Hotel (Fitzroy, VIC)
Saturday, 10 September 2022 9:00 pm
Mandacaru plays raw and rare Forró style, an earthy, organic, melodic sound featuring vocals, accordion and sizzling Brazilian percussion with a unique rhythmic pulse.

Lead singer and accordion player Phillipe Alves brings influences from his hometown and over 15 years of expertise sharing Forró from the Northeast of Brazil. Lalita Yagnik on percussion/vocals, from India, spent a few years in Brazil exploring traditional music such as Coco and Afoxé, and has continued in Australia with Maracatu and Forró.
Antonio Moreira from Recife on percussion/vocals blends and shares his rich musical background representing styles such as Maracatu, Coco, Afoxé and Forró. André Pinheiro from Espirito Santo on percussion/vocals shares his passion for Brazilian folk music and rhythms.
Together they create exotic and upbeat grooves that will get you up and dancing.