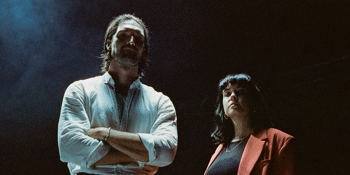 New World Artists and Best & Fairest Present
Party Dozen 'The Real Work' Tour
With Special Guests
The Evelyn Hotel (Fitzroy, VIC)
Saturday, 23 July 2022 7:30 pm
Party Dozen are a 2-piece noise band from Sydney made up of Kirsty Tickle (saxophone) and Jonathan Boulet (percussion and sampler). Since forming in 2017, they have become renowned in Australia for their incendiary live shows, touring and playing with acts such as LIARS, Tropical Fuck Storm and Viagra Boys. Exactly what Party Dozen are is completely up to the listener. Doom. Jazz. Hardcore. Psychedelic. No-wave. Industrial. Although largely instrumental, their sets are punctuated by Kirsty's unique "singing" style, screaming into the bell of her saxophone which itself goes through a bevy of effects pedals. Intensely independent in everything they do, the duo write, perform and record everything themselves and have released two acclaimed albums on their own label, GRUPO: The Living Man (2017) and Pray For Party Dozen (2020).

These two albums have seen word of the group slowly spread around the globe. Tracks from Pray For Party Dozen gained early support from the likes of Henry Rollins at KCRW in the US and Tom Ravenscroft at BBC 6 Music in the UK. But like so many other bands, Party Dozen found their plans to tour these places halted by the COVID-19 pandemic. Lockdown did present other opportunities however, including an incredible performance of album track "Play The Truth", recorded in an empty Sydney Opera House. Two songs from the album also found themselves remixed: "Auto Loser" and "Scheiße Kunst" by Mogwai and Peaking Lights respectively, something that arguably might not have happened had those musicians been recording and touring as they would in more normal times.

2022 will see the return of Party Dozen, first in April with the 7" release Fat Hans Gone Mad for Sub Pop's Singles Club, and then with their third album, The Real Work, with a new label partner for the world outside Australia and New Zealand in New York's Temporary Residence Ltd.