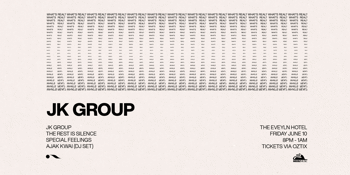 Moor Music & Evelyn Hotel presents
JK GROUP
The Rest Is Silence // Special feelings // Ajak Kwai DJ SET
The Evelyn Hotel (Fitzroy, VIC)
Friday, 10 June 2022 8:00 PM
JK GROUP grace The Evelyn for a night of future-leaning jazz performing brand new music from two upcoming releases. Fronted by award-winning saxophonist, Joshua Kelly (30/70 collective, PBS Young Elder of Jazz 2019), and featuring heavyweights of the Melbourne jazz/band scene, JK GROUP are a serious force in the Melbourne music ecosystem charting the way forward for jazz-leaning stylists of the city.
Their first release, The Young Ones (La Sape Records 2020) was received to critical acclaim being nominated for The Music Victoria Best Jazz Album, followed up by the genre-bending 'What's Real? EP' which received extensive play on local and international radio garnering the support of Sarah Evans (BBC), Bradley Zero (Rhythm Section), and Toshio Matsuura (Worldwide FM Tokyo) to name a few.
This show will feature new music from upcoming releases performed live in Melbourne for the first time by an all-star lineup: Joshua Kelly on saxophone, Erica Tucceri on flute (Z*F*E*X, Billy Davis), Brett Williams on keys (Marcus Miller, Keyon Harrold), Matthew Hayes on bass (30/70, Cousin Tony's), Javier Fredes on percussion (Z*F*E*X, Los Cabrones), and Lucky Pereiera on drum kit (Close Counters, Allysha Joy).
JK GROUP will be joined by some of Melbourne's most exciting jazz acts: Special Feelings and The Rest Is Silence, with Ajak Kwai providing a soundtrack to the night.
Jk GROUP: Listen here 👉 https://spoti.fi/3sjZiBN
The Rest is Silence: Listen here 👉 https://spoti.fi/39Qu4vJ
Special feelings- Listen here 👉 https://spoti.fi/3spv0xj
Don't miss this incredible opportunity to catch these forward-thinking jazz artists in their element at The Evelyn June 10th 2022.
JK GROUP and The Evelyn Hotel acknowledge that this event takes place on the land of the Wurundjeri people of the Kulin Nation. We pay our respect to elders past and present, and acknowledge that sovereignty was never ceded.
This venue is wheelchair accessible.