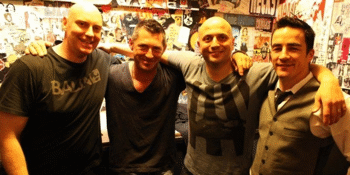 The Evelyn Hotel presents
POSTPONED - Last Chance Saloon
The Evelyn Hotel (Fitzroy, VIC)
Sat 2 May - Thu 1 October 2020 8:00 PM
Last Chance Saloon is back baby and your mission, should you choose to accept it, is to come and join us celebrate our 10 year anniversary. Like us, if you can't get enough of rock, pop and party classics from the 70's til now, then come party with us – as we say, rock n roll is good for your soul!
Last Chance Saloon formed over beers one night between four good mates who, with one brain cell left between them, figured that all they wanted was to find their inner rock god and play quality, high energy covers from Aussie pub rock to glam rock to Billie Eilish…. WTF? That is correct, even Billie gets a Last Chance Saloon make over.
Having played around Melbourne and a stint in Sydney for the past 10 years what better way to celebrate at the iconic Evelyn Hotel.