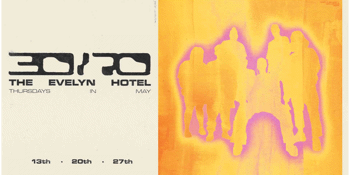 The Evelyn Hotel presents
30/70 -- May Residency
Special Guests
The Evelyn Hotel (Fitzroy, VIC)
Thursday, 13 May 2021 8:00 PM
To celebrate the reopening of the Evelyn Hotel, 30/70 have been invited to break in the freshly renovated band room, with three intimate LIVE shows in May!
H O S T E D . B Y . W A T . A R T I S T S
An incredible opportunity to witness this internationally acclaimed band in a uniquely intimate space, 30/70 will be showcasing new music and a fresh new line up as they simultaneously complete recordings for their fourth studio album. 30/70 features Lucky Pereira on Kit, Josh Kelly on Saxophone, Finn Rees on Keys, Matt Hayes on Bass, Jaydean and Belle Bangard on Vocals and the ineffable Allysha Joy.
The Evelyn Hotel has been the home base from the beginning, hosting yearly collective fundraisers, showcasing 30/70 side projects and getting us up on the big stage! To say thank you to our amazing community and to celebrate the Ev's fresh new renovations and reopening, we are thrilled to be hosting these three exclusive events!
3 0 / 7 0 . C O L L E C T I V E
Prolific future-jazz outfit, 30/70 have well and truly made their mark on the scene. Effortlessly shifting between neo-soul and languid, astral-facing future jazz textures and authentic vignettes of UK club music history, their rich and dynamic approach to music has garnered them legions of fans across the globe.
S U P P O R T S . T O . B E . A N N O U N C E D
30/70 and The Evelyn Hotel acknowledge that this event takes place on the land of the Wurundjeri people of the Kulin Nation. We pay our respect to elders past, present and future and acknowledge that sovereignty was never ceded.
This venue is wheelchair accessible.